Bahrain Business Owners, Stop sleeping on TikTok!
TikTok has exploded in popularity in Bahrain and worldwide in the past 18 months – it is now truly a social media powerhouse. Surprisingly, very few businesses in Bahrain use TikTok despite the number of consumers on the platform.
According to figures published by DataReportal in January 2023, there are 889,000 active TikTok accounts in Bahrain (over the age of 18). For comparison, Instagram recently suffered a decrease in users to 870,000, making TikTok more popular!
These figures represent opportunity! To be one of the first businesses in Bahrain to experiment and harness the opportunities on TikTok. GOamplify is one of the only agencies in Bahrain running TikTok ads and getting a lot of success for our clients.
If you want to run TikTok Ads for your business, request a call with us today.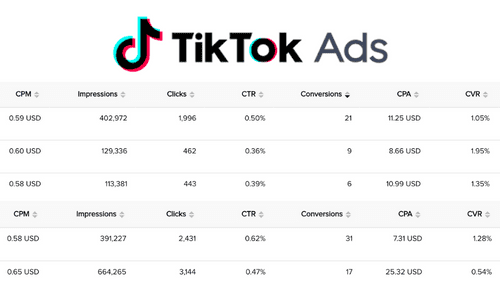 Our Social TikTok Ads packages are designed for businesses of all sizes. If any of the packages below do not suit you, book a call with us and let's discuss a custom solution to meet your needs.
Starter
Getting your feet wet
Up to 3 Creatives Per Month

Awareness & Consideration Objectives

Customer Provided Creatives

End of Campaign Reporting
Growth
Scaling with TikTok Ads
Up to 10 Creatives Per Month

Awareness, Consideration & Conversion Objectives

Instant Pages & Lead Forms Included (if applicable)

Customer Provided Creatives
Amplify
Serious about TikTok Ads
BHD
1,000
Priced From (Per Month)
Awareness, Consideration & Conversion Objectives

Instant Pages & Lead Forms Included (if applicable)

Creatives shot & edited by GO

Multiple Creative Variations

Daily Monitoring & Optimisation
Proof That TikTok Ads Work!
If you're unsure that TikTok Ads will work for your business. Here is the proof! Check out some of our results for customers below. These are some of the best-performing statistics in their respective industry. Real results, real leads, local Bahraini businesses getting real return on their investment! 
Frequently Asked Questions
I need content for my ads, can you help?
Yes, please see our content creation services. 
How long does the onboarding and campaign planning process take?
Our onboarding process is normally scheduled within 48hrs of confirmation. The onboarding brief takes up to 2hrs to complete, depending on how complex your campaign is.
The planning process is dependent on the creatives that are required for the campaign – if you are providing these to us, we can usually have your campaign live within 3 business days.
How long do my ads need to run to get results?
Paid ads typically need to run for a minimum of 3-5 days in order to start seeing results. However, depending on your target audience and the specific ad campaign you are running, it may take longer for your ads to gain traction. It's important to be patient and we will continuously monitor your ads' performance and make necessary adjustments along the way.
Can I see an example of ads you have run?
Yes, see below screenshots of some of our previous ad campaigns.