# ATTENTION BUSINESS OPERATOR
Are you tired of your business not showing up on Google?
Your customers are searching for what you offer, but if they can't find you, then it doesn't matter how great your product is. You need to be there when people are looking for a solution like yours.
That's where we come in. We make sure that potential customers see your ad and click through to learn more about what you have to offer them. We help turn clicks into sales by making sure the right people see your ads at the right time – whether they're searching on their desktop or mobile device.
Our team of experts will work closely with you to understand your business goals and create a campaign that delivers results. We'll keep you informed about how well your ads are performing every step of the way, so there's no guesswork involved when it comes to ROI (return on investment). Plus, our Google Ads Partner status means we know exactly how everything works – which means less time spent learning and more time focused on growing your business.
Book a free consultation with our experts today.

Pay Per Click Advertising
Our Google Ads packages are designed for businesses of all sizes. If any of the packages below do not suit you, book a call with us and let's discuss a custom solution to meet your needs.
Google Ads Management
Management Fees From
BHD
300
Per Campaign Type - From Monthly ($795)
Display ads (design & adaptation is additional)

Video (YouTube - see Social Media Marketing service)

Ad creative (ex video) & copywriting

Minimum $5 per day ad spend
Campaigns designed for businesses of all sizes and implemented by Google Ads specialists.
Keyword research to identify your important keywords & search phrases.
Writing your ads and setting up the ad campaigns.
Proactively managing and monitoring your account.
Ensuring the optimal bidding strategy for your business goals and monitoring your keywords' performance.
Setting up conversion tracking to measure your return on investment.
Adding account  'extensions' that give additional information or links to provide more reasons to choose your ad over your competitors.
Budget monitoring to ensure you are getting the best return on investment.
Minimum $10 per day ad spend.
No minimum contract.
All pricing excludes any applicable VAT or GST.
We meet with you on zoom and complete our onboarding brief document together. We will run a Google Ads audit to get an understanding of your industry particulars. 
Set up of campaign per the brief. We create all the content for your review – this includes Ad Groups & Keywords, Initial Ad Copy, Ad Extensions, Negative Keywords, Any necessary creatives (for display campaigns). We set up the account and billing information with you via Zoom.
When the campaign is approved and launched, we monitor the campaign and optimize it for best performance and return on investment. We will provide you updates as agreed.
Want to know the secret to running a well converting Google Ads campaign?
There is no one answer to this question. However, there are a few things that you can do to improve your chances of success:
1. Make sure that your ads are well-targeted.
2. Make sure that your ads are well-written and persuasive.
3. Make sure that your landing pages are well-designed and user-friendly. This point is missed by most businesses and it can make or break your campaign.
A well-designed website or landing page is important for Google ads because it can help to improve your chances of success. If your website is user-friendly and easy to navigate, people are more likely to stay on your site and complete a purchase or sign-up. If your landing page is well-designed, it will be more likely to convert leads into customers. Equally important to the design is your Offer! Your Offer and page copy is ultimately what will convince someone to take action.
Every day we see hundreds of businesses wasting their money on ad campaigns sending traffic to poor converting websites with absolutely no information about their unique offer or business/product proposition. Don't make the same mistake!
Our team are specialists in designing high converting landing pages for ad campaigns. Book a free consultation with our team to find out more about our website and landing page services.
Frequently Asked Questions.
What is the difference between SEM & SEO?
Search Engine Marketing (SEM) is when advertisers pay for their website to appear on search engine results pages. 
Search Engine Optimization (SEO) is when marketers optimize their website and their content to organically appear on search results pages.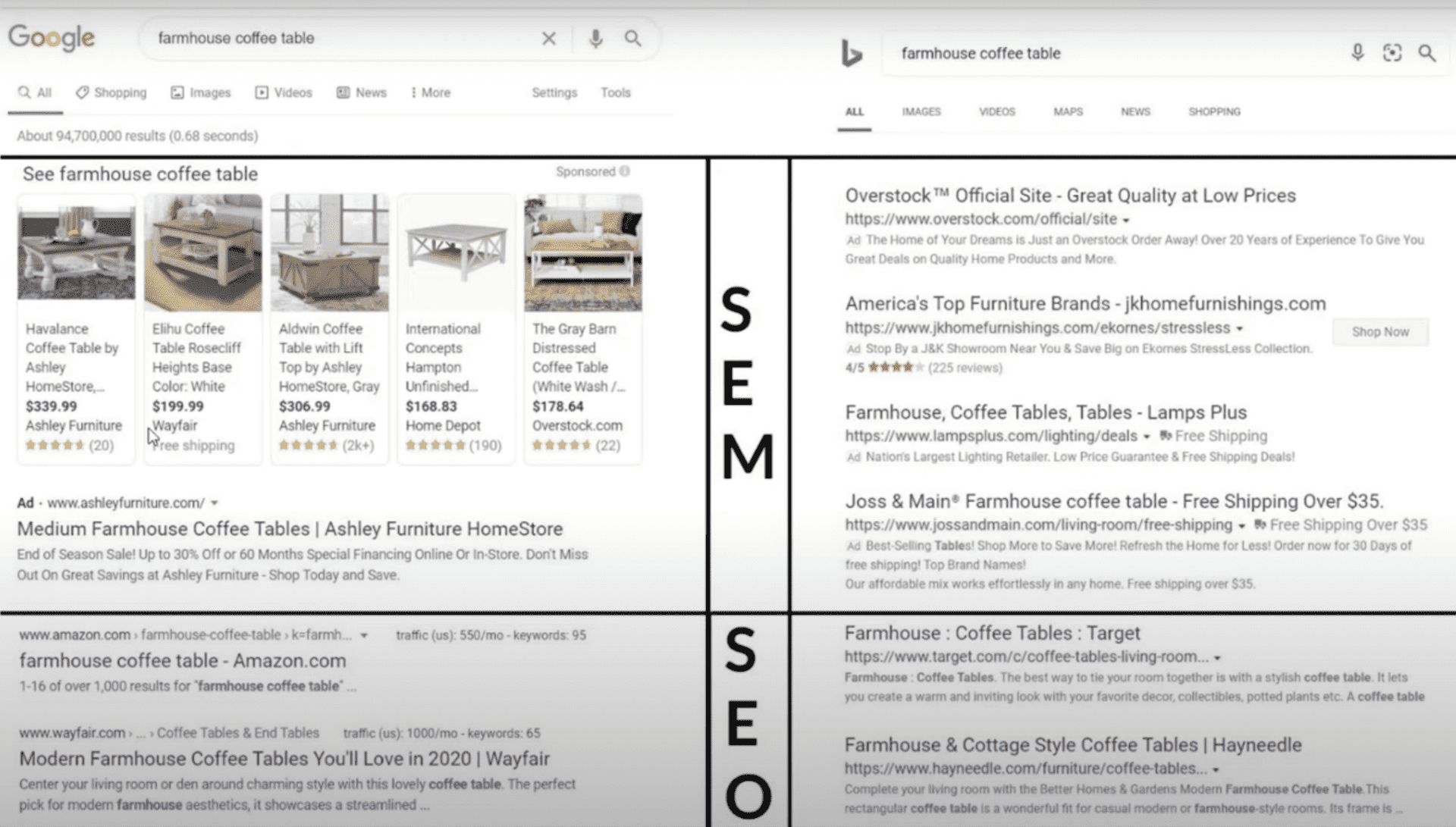 How much do I need to invest in Google Ads?
We determine recommended Ad spend after analysing your business goals, and doing in-depth research on keywords, target audiences, and your product or service. After this analysis, we provide a budget recommendation that aligns with your core strategy and business goals.
The minimum Ad Spend for Google Ads is $5 per day. However, what's great about Google Ads is that you can decide to increase or stop spending at any time.
Will my ads rank #1 on Google Search?
Unfortunately, no agency or consultant can ever guarantee a #1 rank. This is because there are many uncontrollable external factors that cause rankings to go up and down. Some factors include:
Seasonality
Competition
Google algorithm updates
Quality score
Landing page/website experience
Our Google Ads specialists are always prepared to change or pivot strategies to ensure you are getting the best return on investment. This means constant vigilance when it comes to monitoring campaigns – whether it's modifying keywords, creating new ad groups, or more.
Can you run campaigns in multiple languages?
We can run Google Ads campaigns in English or Arabic – Arabic ads carry an additional management fee of $10 per month / per ad.